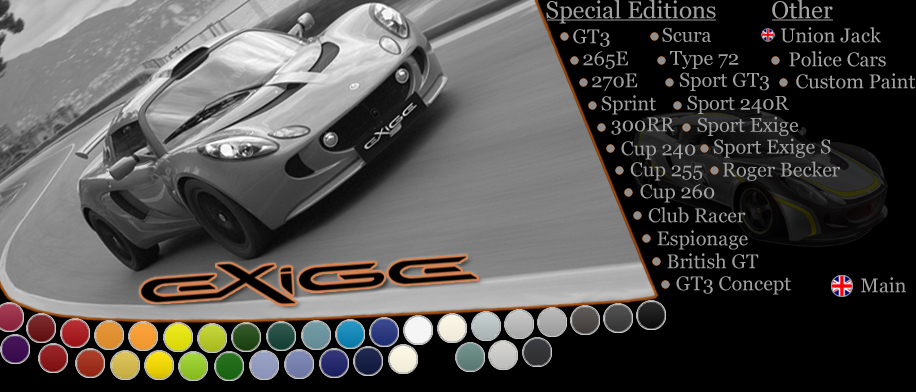 Cup 240

       

       

       

      Lotus Exige Cup and Lotus Exige Cup 240 Road Cars Ready for Track Use straight out of the Box:

      Lotus Sport, the motor sport division of Lotus Cars Ltd., has developed two higher performance versions of the 2006 
      Model Year Lotus Exige, the Lotus Exige Cup and the Lotus Exige Cup 240, both developed for track use straight out 
      of the box.

      The Lotus Exige Cup cars are based on the new 2006 Model Year Exige and are completely track ready sports coupés with 
      uprated clutch, sports exhaust, adjustable suspension, uprated brakes, limited slip differential, switchable traction 
      control, a T45 steel roll-over hoop and Aframe with harness mounts, fuel and ignition kill switches and a fully plumbed 
      in fire extinguisher system. An FIA approved 6 point roll cage is a no cost option.

      As the names suggest, the Lotus Exige Cup cars are available with two different engine variants. The Lotus Exige Cup 
      uses a 192 PS (189hp / 141kW) and 181Nm four cylinder 1.8 litre 2ZZ VVTL-i engine, and the Lotus Exige Cup 240 uses a 
      supercharged and intercooled high revving 1.8 litre four cylinder engine producing 247 PS (243hp / 181kW) at 8000 rpm 
      and a torque figure of 236 Nm at 7000 rpm.

      Performance from both the variants is phenomenal with the Lotus Exige Cup reaching 100 km/h in 5.2 seconds and 160 km/h 
      in 13.2 seconds, with a top speed of 237 km/h. The Lotus Exige Cup 240 reaches the 100 km/h mark in around 4.5 seconds 
      and 160 km/h in 11.3 seconds. Top speed is 249 km/h.

      Both versions are built as official factory conversions of new Lotus Exige cars by Lotus Sport at its facilities at the 
      Group Lotus Headquarters in Hethel, Norfolk, UK. Each car features a Lotus Sport build plate.